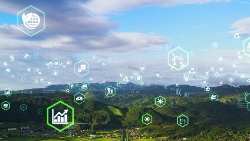 Despite the ongoing pandemic, 2021 was a record-breaking year for investment in the energy transition and renewable power, battery storage, and sustainable transportation, according to the 2022 Sustainable Energy in America Factbook, published by BloombergNEF (BNEF) and the Business Council for Sustainable Energy (BCSE). This tenth annual edition of the Factbook concludes that unprecedented injection of new capital into companies, technologies, and projects, as well as a wave of supportive new policies, drove the growth in clean energy transition and energy efficiency.
Among the key findings of the 2022 Factbook:
Although U. S. primary energy consumption grew by 4.4 percent in 2021, consumption was 3.9 percent below pre-pandemic (2019) levels.
Economy-wide, greenhouse gas emissions rose 5.8 percent in 2021 – after falling 9.6 percent in 2020 but remained 15 percent below 2005 levels. The rise in U.S. greenhouse gas emissions signals the need for public policy support that accelerates the speed and scale of the deployment of clean energy and energy efficiency solutions.

The Biden administration adopted a 2050 economy-wide net zero emissions goal for the U.S. as Congress approved $80 billion for energy transition investment.
While energy consumption grew, energy productivity improved by 1.3 percent. In addition, the ratio of GDP growth versus energy consumption grew again in 2021, suggesting that the long-term trend of the U.S. using energy more efficiently continued, despite the tumult of the past two years.
A total of $105 billion in new capital was spent on clean energy assets in America – an 11 percent increase from 2020 and an all-time record.
Corporate demand for clean energy remained high, with a total of 351 companies pledging to procure 100 percent clean energy.
U. S. consumers allocated less than 5 percent of their proportional household spending on energy products, despite high gasoline prices, supply chain challenges, and overall inflation.
Renewables saw another record contribution to the power grid, with production rising 4.1 percent year-on-year.
Natural gas remained the largest source of U.S. power generation at 38 percent. However, the fuel contributed 3.1 percent less than in 2020 due to higher gas prices.
Demand for U.S.-produced natural gas grew by 9.4 percent.
What Drove Growth?
"As the world grapples with the impacts of climate change and disruption of energy markets, the momentum gained by the clean energy transition in 2021 is a beacon of hope, pointing the way forward," said BSCE President Lisa Jacobson. "I'm confident that the upward trends we saw in 2021 will continue and that long-term investment in the clean energy portfolio of energy efficiency, natural gas, and renewable energy will yield powerful dividends in terms of energy security, economic benefit to our country, and emissions reductions."
Why It Matters
Simply put, clean energy is thriving. Record levels of public and private sector investment in both the U.S. and globally in 2021 signal the durability of the energy transition despite difficult business conditions during the COVID-19 pandemic. Corporate demand, coupled with public sector injection of capital into U.S. infrastructure, will accelerate the expansion of the clean energy transition, which is rooted in a diversified portfolio of energy efficiency and clean energy.
To access the 2022 Sustainable Energy in America Factbook, click here.