Better, Greener Residential AC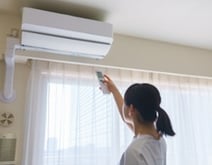 Record heatwaves remind us that residential air conditioners (AC) are a wonderful invention, and as sweltering heat blankets much of the country, the demand for home AC will only increase. Unfortunately, this only drives CO2 emissions higher, increasing global warming. One way that we can ensure that we reduce greenhouse gas emissions as much as possible is by adopting more stringent building energy codes that offer higher levels of insulation and air sealing, reducing the amount of energy needed for air conditioning. Another is through innovative design and construction of residential air conditioners that can meet the demand for cooling without increasing GHG emissions. That's what the Global Cooling Prize sought to do.
The Global Cooling Prize
The Global Cooling Prize rallied a global coalition of leaders to solve the climate threat from the growing demand for residential air conditioning. Through harnessing the power of innovation, the competition urged designers to develop residential cooling solutions that will have at least five times less climate impact than standard residential room air conditioner units on the market today. Innovations like this could prevent up to 100 gigatons (GT) of CO2-equivalent emissions by 2050 and mitigate up to 0.5˚C of global warming by 2100, all while increasing comfort for people around the globe.
Recently two partnerships, Gree Electric Appliances, Inc. and Tsinghua University, along with Daikin and Nikken Sekkei Ltd, were named winners among eight finalists in the competition. They will share a $1M prize for their innovative solutions.
Both winning teams achieved more than a 5X reduction in climate impact against the baseline unit, meeting the primary criteria of the prize. And though the initial upfront cost of both teams' units would be higher than baseline units currently available on the market, the cost of ownership would be 50 percent lower, so consumers would see payback after just three years of operation.
Why It Matters
According to the Global Cooling Prize website, by 2030, more than half of the world's population will live in hot climates, which will increase their exposure to potentially dangerous heat conditions. Further, demand for residential air conditioning will increase three times globally by 2050. Approximately 4.5 billion residential air conditioning units will be in use by that time, compared with 1.2 billion today. As demand for residential air conditioning increases, solutions to mitigate further CO2 emissions will be essential.
Energy Efficient Construction and Resilience
Energy efficiency, including appliance efficiency and building envelopes, will be central to mitigating the impacts of global climate change. Innovations like those showcased in the Global Cooling Prize will offer solutions that keep GHG emissions low while meeting the need for comfortable residential environments.