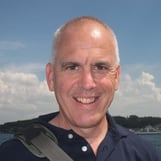 John McManus retired last August from Hanley Wood after a nearly 20-year career in various senior editorial roles. Post "retirement," McManus launched a brand-new publishing endeavor, The Builder's Daily, a digitally published newsletter filled with thought-provoking and informative insights for the building industry. Insulation Institute recently talked with McManus about his new venture and the changes that are happening in the construction industry.
Targeting Solutions to Critical Challenges
Having spent the majority of his career as a writer and editorial director at a top building industry publisher, McManus knows all about the challenges and complexities of modern home building and construction. So, it made sense that he'd want to start a new chapter in his professional career building a publishing brand focused on what he knows best – asking tough questions and offering practical guidance geared toward solutions.
"I launched The Builders Daily because the needs of this market are underserved and are at risk of heightened disruption for two reasons. First, the leading incumbent third-party business-to-business publishers have been financially challenged in their editorial resource commitment as their business models have been disrupted," McManus said. "Secondly, structural shifts triggered by exponentially advancing technology, data, and consumer behaviors have begun to alter the skillsets necessary to unleash equity growth potential among business thought and practice leaders," he added. "We believe solutions and opportunity for building and real estate are possible through community, and we plan to develop, nurture, and enrich a community as a solution for housing."
Finding solutions to housing challenges means addressing some relatively complex issues that currently face builders: workforce, COVID-19 evolutions in the industry, and the need to construct some 3 million homes to keep pace with U.S. housing demand.
Addressing the Workforce Challenge
McManus and TBD have teamed up with Branka Minic, CEO of the Building Talent Foundation, to tap the power of the Leading Builders of America to reframe the conversation about career opportunities, excitement, and purpose in the building industry.
"Housing and residential construction's biggest challenges – equitable attainability, environmental sustainability, and resilience – all tie directly to human livelihoods," McManus noted. "The BTF-TBD partnership will result in practical "how-to" templates, and "training-the-trainer" program models homebuilding partners can put into place and sustain in their own local HBA districts and operational areas."
COVID-19 Changes
COVID-19 has meant even more disruption and change for the real estate and construction industry, according to McManus.
"Covid is defining. Ultimately, its impact will only be appreciated in hindsight. Already, the first year-plus of the pandemic has sped up change in the home-buying experience, from digital shopping and mortgages to customer care," McManus noted. "It's caused enormous adaptation and nimbleness, as disruptions to supply chains have become a common daily experience."
As construction and real estate adapt to changing conditions, whether brought about by COVID, workforce realities, changing demographics, or environmental considerations, the need for housing in America is at a critical inflection point.
"My guess is that over the next 10 to 15 years, homebuilding will pivot as people "home in" on geographies that suit a living-with-COVID lifestyle and livelihood," McManus said. "This means economic opportunity, primarily for tertiary and secondary markets with less expensive housing costs. This could change the one-to-two-hour peripheries of urban job center metros, where hybrid work-from-home and go-to-the-office situations proliferate."
Automation and Factory Building Prediction
Given the 3-million-unit housing shortage, we are experiencing in the country today, conditions would seem favorable for companies focused on automation, pre-fabrication, and offsite construction as a means to expedite building and meet high demand. McManus agrees, despite the recent bankruptcy this year of the high-profile industry player, Katerra.
"These builders will draw more capital, and more companies will embrace these technologies as firms vie with one another to produce more "suburban" community housing that blends rental, ownership, the 'missing middle' housing, and workforce living. I believe offsite, precision manufacturing, and industrialization will be a prevailing method of housing production within the next 15 years – with significant push-back and resistance in the next few years, followed by a pervasive embrace by 2025," McManus said. "Its value proposition will be saving on labor, waste of materials, energy and carbon use, and as a regenerative employment and community value source of commerce and economic value."
This holistic, strategic model for homebuilding, McManus said, is the exact opposite of the discrete components model for framing, trusses, and other building envelope parts that are manufactured in a factory and then shipped to a job site. We're talking whole homes built in factories. Other changes, he says, will be driven by what has always driven changes in building: value engineering.
"Building improvements – writ large—occurred on the value engineering of homes in ways that put more of what consumers regard as valuable in them, subtracting what they did not value," McManus said. "This primarily occurred through streamlined floor plans with less variability and more iterative construction and assembly processes, and that is what offsite construction can deliver."
Enabling Better Housing for the Future
As the company focuses on solutions-based content for the construction industry, TBD hopes that the daily insights it provides for construction and real estate industry stakeholders will play a role in improving housing in America. One day at a time.