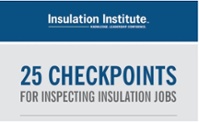 Most home builders have a point-person responsible for ensuring that tradespeople are completing their work as specified. For some, that means there's someone physically walking through homes after the insulation has been installed to ensure that the job is done properly. But do they know where to look? Our 25 checkpoints guide can help.
25 Checkpoints is designed to give useful guidance to builders and contractors on how to improve the quality of the insulation installation in all the areas it's typically required – including wall areas, ceilings, floors, and bathtubs. The guide details the proper placement of insulation and vapor retarders and provides general information about air barriers and what to do with wet insulation.
Download the guide here.