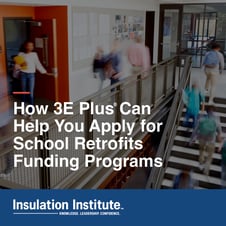 The U.S. Department of Energy (DOE) Office of State and Community Energy Programs has issued a grant funding opportunity announcement (FOA) for public K-12 schools. These grants are available to make energy improvements that result in direct reduction to school energy costs, increase energy efficiency, and lead to improvements in teacher and student health, including indoor air quality. Applicants must submit a baseline energy needs assessment to qualify.
NAIMA's 3E Plus pipe insulation thickness calculator tool can help schools assess how adding pipe insulation in their facilities can help improve energy efficiency. The tool provides a user-friendly platform for estimating potential energy savings resulting from facility pipe insulation upgrades (see our guide here to learn more).
To help inform schools of the retrofit funding opportunity, Charlie Haack, NAIMA's Vice President for Technical Services, will present a webinar on how the 3E Plus tool can help them apply for grant funds. The webinar is open to all to attend and requires registration.
All school facility professionals should attend the webinar to learn how to leverage 3E Plus to support a grant for their school. Please feel free to share the webinar registration link and details.
DOE's final deadline for submitting funding applications is April 21, 2023.