A new study from Re:Vision Architects draws attention to a common flaw in research of products for the build environment: materials research and product selection typically focus on single-product performance, when very few building assemblies are composed of single products, but rather a combination of products. This simplistic approach led researchers Christopher Lee and Nicole Campion to look instead at the performance of wall assemblies, versus single products. Their study considered five wall assemblies and the results showed that and double stud wall using fiber glass insulation was among the top performing assemblies.
The sample wall assemblies (metal stud, wood stud, concrete masonry unit, double wood stud and truss I-joist) were evaluated using a multi-attribute assessment based on:
cost
embodied carbon footprint (using the Athena Impact Calculator)
material toxicity and transparency (using the Living Building Challenge Red List and transparency documents like environmental product declarations)
moisture and thermal performance
recyclability and reusability at end of life
The wall assemblies considered interior and exterior components with each of the metrics above weighted equally.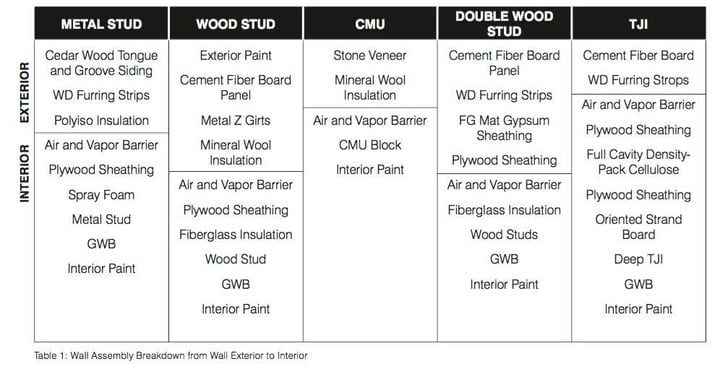 Another top performer in the study was a truss I joist. Both the double-stud wall and the truss I joist scored high in thermal performance and low in embodied carbon. A single-stud wood assembly closely followed, only a few points behind in the toxicity category. A concrete masonry unit and a metal stud assembly were the lowest performers, scoring "poor" in thermal performance and embodied carbon footprint, respectively. The study also showed that the metal assembly with spray foam had embodied carbon six times more than double stud wood assembly with fiberglass insulation.
In a separate analysis, the researchers focused on one variable – insulation choice – for three assemblies and found: Cellulose and fiberglass were low in carbon and toxicity but cellulose is costly.
Spray foam had high insulating value per inch, but performed poorly across other metrics.
Mineral wool was average for carbon footprint, cost and toxicity best under end of life.
Based on these results, researchers concluded that installing XPS and mineral wool on the exterior of a building, with fiberglass or cellulose in the cavity scored highest among all wall assemblies.