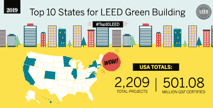 Leadership in Energy and Environmental Design (LEED) is the most widely used green building rating system in the world, and the number of LEED-certified buildings in the United States continues to grow. The U.S. Green Building Council (USGBC) recently released the top 10 states for LEED Green building in 2019, a year in which the total number of certified projects reached 1,181.
What is LEED?
LEED is a comprehensive framework for green building design, construction, operation, and performance. It considers building energy efficiency, water consideration, site selection, material selection, and waste reduction in assessing building projects. The latest version of LEED for new building design and construction (v4.1) considers products in three broad categories: energy and atmosphere, materials and resources, and indoor air quality.
The standard favors products that use recycled content, provide environmental product declarations (EPDs) and transparency documentation, and meet VOC requirements. Also, products that have GREENGUARD certification, meeting established low-emission requirements, are favored in LEED and many fiberglass and mineral wool batt and blown-in insulation manufacturers offer GREENGUARD certified insulation products.
Top 10 States for LEED
Each year, the USGBC recognizes LEED-certified projects throughout the country in its effort to help promote healthier, more sustainable buildings. For the first time since 2011, Colorado leads U.S. states in certified LEED buildings. Other states that make up the top 10 include Illinois, New York, Massachusetts, Hawaii, Maryland, Virginia, Minnesota, and California (see chart below).
This year's list represents more than 1,100 projects certified and more than 312 million gross square feet of space.
According to USGBC Communications Director Sarah Stanley, there are more than 100,000 buildings in the world that are LEED-certified or in the process of being certified, including a total of 2,209 in the United States, comprising more than 500 gross square-feet of space.
"Over the last year, the top 10 states have certified projects that serve as incredible examples of how green building can create more sustainable and resilient spaces that improve our living standard," said USGBC President and CEO Mahesh Ramanujam. "There is still much work to be done, but the progress made across these states shows us that our work is having a tangible impact on people's lives. As we enter our next chapter, we are committed to helping more buildings, cities, and communities improve their sustainability performance through LEED."