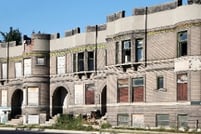 Long-needed energy efficiency improvements in much of America's public housing means that low-income tenants spend a significant portion of their income on energy costs. Moreover, buildings are the second-largest carbon dioxide emissions source. The U.S. Department of Energy (DOE) seeks to address this by launching an experiment with architects and public housing agencies to retrofit these homes with heat pumps and insulation upgrades to improve their efficiency.
DOE Principal Deputy Assistant Secretary Kelly Speakes-Backman announced on a webinar this week that "an all-out sprint" will be needed to reduce building emissions to meet the nation's climate goals by 2050, as there are more than 130 million buildings in the U.S. that will still be standing in 2050. Reducing emissions in those buildings should be a priority.
Eight to 10 Projects, $32 Million
Thirty-two million in DOE grants will be disbursed to public housing agencies to fund updates that include prefabricated exterior panels to improve insulation and the appearance of the units, as well as heat pumps and energy efficiency controls to improve the HVAC. The goal is to cut the building energy by up to 75 percent.
The initial grants will go to public housing agencies in Knoxville, TN; Albany, NY; Arvada, CO; Cambridge, MA; Syracuse, NY, and other projects in Pennsylvania and Vermont. The housing units are circa 1930s. The Knoxville project is already scheduled for renovation of the 244-unit building.
Influencing an Energy Efficient Future
According to a report in Scientific American, Knoxville Public Housing Authority head Ben Bentley said about 20,000 people live in subsidized housing in the state. "We want to see them catch up in their sustainability, and utility bills are a huge part of that," Bentley said.
Many urban housing authorities don't have the resources to make such upgrades to properties, however, if these improvements work, they could influence the energy efficient design and construction of millions of new buildings planned before 2050.
DOE's office of Energy Efficiency and Renewable Energy (EERE) said, "Building construction practices have remained largely the same over the past century. While other industries such as manufacturing and communications have transformed through digitization and process improvements, productivity in the U.S. construction industry has consistently declined since 1968." That decline has meant higher construction costs and building owners neglecting energy -efficient technologies that lower the operating and maintenance costs of buildings.
EERE says more than half of existing buildings were constructed before 1980, when modern building codes began to mandate improved energy performance. It estimates that 1.75 percent of homes undergo an energy efficiency upgrade each year while 2.2 percent of commercial buildings implement these upgrades.