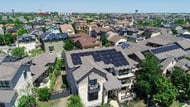 A recent report from Zillow, a leader in the real estate marketplace, shows that homes that highlight eco-friendly and resilient features sell up to 10 days faster than those without such features. Moreover, these homes that include features such as energy-efficient windows and solar panels continue to sell for more.
Young Adults Driving the Trend
Zillow's research reveals that two-thirds of young adults believe climate change will impact their homes or communities. This population is conscious of their ecological footprint and is making buying decisions based partly on their values and beliefs, so considering resilient construction would be a priority.
Many buyers are concerned about natural disasters and their impacts on their homes. Their top concerns are flooding (55%), tornadoes (41 percent), hurricanes (35 percent), and earthquakes (29 percent). But how does that play out with their buying habits?
Research shows that homes with such defensive features as storm shutters can sell for 1.4 percent more, and homes with seismic retrofitting to make them more resilient can sell quicker – up to 19 days faster than similar homes. Energy-efficient features can also command a higher price and result in quicker sales.
Features like double-paned windows, programmable thermostats, solar panels, and smart lighting draw buyers – particularly because these features are known to reduce the cost of ownership. And, in an inflationary economy, 67 percent of home buyers say that an energy-efficient home is very or extremely important.
What This Means for Builders
It's clear that energy-efficient and resilient features in homes are driving consumer home-buying choices. Current economic inflation and climate factors have combined to elevate the importance of resilience and energy efficiency for buyers, and builder commitment to energy-efficient building is increasing. As we reported in last week's blog, one example of that is the increase in the number of HERS-rated homes, which have seen nine consecutive year-over-year increases.
As the climate crisis continues to be a factor for many buyers, resiliency will only increase in importance to buyers. Emphasizing those features that help reduce carbon emissions and protect homeowners from extreme weather events will capture buyers' attention and signal that they're making a good long-term investment.
Insulation may not necessarily be top-of-mind for most buyers during their home-buying journey. But calling attention to a well-insulated home – and the resulting thermal envelope protection that comes with it – is another way to distinguish your homes from your competitors and draw in buyers looking for the best long-term home investment.