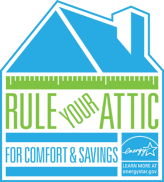 The U.S. Environmental Protection Agency's (EPA) ENERGY STAR annual "Rule Your Attic" campaign kicks off on Monday, October 17. The annual campaign encourages homeowners to go into their attic, check their insulation levels, and air seal and insulate if needed. Most homes will need to add insulation as 9 out of 10 U.S. homes are under-insulated.
EPA partners with utilities, retailers, and manufacturers to help get the word out about the importance of a well-sealed and insulated attic. During the campaign (October 17 – November 4), EPA and its partners will share information about the myriad benefits of an insulation retrofit, including energy savings, reduced pollution, and increased comfort. In addition, homeowners can take advantage of a tax credit of up to $500 for conducting an insulation retrofit through the remainder of the year.
A wealth of resources are available to consumers on how to check their attic insulation levels, including short videos on the EPA ENERGY STAR "Rule Your Attic" YouTube channel. Additional campaign resources are made available to partner organizations that promote the campaign.
For more information on EPA ENERGY STAR's "Rule Your Attic" campaign, click here.