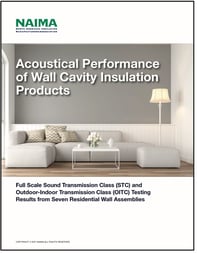 NAIMA has released a new report that documents the acoustical performance of residential wall cavity insulation products. The report is based on research conducted by Intertek Labs that tested seven wall assemblies with variations in cavity insulation products, including fiberglass, mineral wool, open cell spray foam, closed cell spray foam, and flash and batt applications with spray foam and fiberglass insulation.
The tests collected both the Sound Transmission Class (STC) and Outdoor/Indoor Transmission Class (OITC) values for each of the wall assemblies. STC and OITC are values used by engineers when specifying building assemblies to reduce sound transmission.
The results show there was minimal variation in the performance among insulation types, with the variation being 3 or less for STC and 2 or less for OITC. Performance differences of this level can be heard but are generally on the edge of perception.
To download the full report, click here.