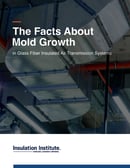 Fiberglass duct liners and duct board have been incorrectly blamed for contributing to mold growth in high humidity and high temperature conditions. The fact is that fiberglass is inherently resistant to mold growth. Stringent testing in accordance with UL and ASTM standards confirms that fiberglass duct liners and duct board do not support mold growth.
Today NAIMA is releasing an updated guide, "The Facts About Mold Growth in Glass Fiber Insulated Air Transmission Systems." This piece debunks myths and presents the facts about the potential for mold growth in fiberglass duct liners and duct board and includes recommended procedures for proper maintenance of air transmission systems to prevent mold growth. The conditions that promote mold
growth do not normally occur in systems that are properly designed, installed, operated, and maintained.