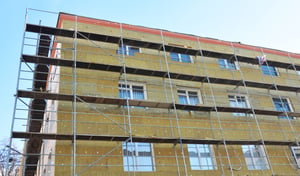 Thermal bridging or the escape of heat through low-performing areas in a building envelope presents a huge problem for builders interested in energy-efficient buildings. One of the reasons that modern buildings are now more energy efficient than ever is that newer building energy codes, like the 2015 IECC and ASHRAE 90.1 prescriptively include the use of continuous insulation in most climates to reduce thermal bridging. While there are many different continuous insulation products and applications, mineral wool is gaining in popularity as an effective solution in minimizing thermal bridging.
Fire Resistance + Moisture Resistance + Sustainability
Mineral wool can include an igneous rock like basalt or steel slag and can be used in commercial and residential construction in many ways, including as wall cavity insulation and continuous exterior insulation.
Architects, specifiers, and builders looking for options for continuous insulation are drawn to mineral wool because it is water repellent, fire-resistant, and contains recycled content.
Water resistance means that the risk of mold, mildew, and bacterial is extremely low since water doesn't penetrate it. At the same time, water trapped in a wall cavity can escape mineral wool since it's vapor permeable.
As a fire-resistant product, mineral wool will not combust when exposed to flames.
Getting Exceptional Performance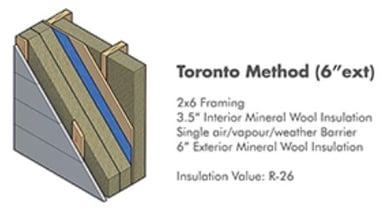 As we profiled previously in our blog, architects at SUSTAINABLE TO Architecture and Building teamed up with Greenbuilt Homes, a leading Canadian custom home builder to construct a home that would sip energy, endure for generations, and remain comfortable at all times. That's a tall order, but the wall assembly they constructed, featuring interior and exterior mineral wool insulation, did just that, delivering a blower door test reading of 1.7ACH50, far below the 3ACH50 required in the most stringent blower door test target within the IECC. Their mineral-wool dependent construction method delivered an air-tight, highly energy-efficient and durable assembly that will withstand even the most extreme climate conditions.
Conclusion
Mineral wool insulation is a great option for builders required by code to have continuous insulation, but it also delivers on key performance aspects that are appealing to architects. Its ability to meet even the most stringent energy efficient building program requirements is demonstrated and has contributed significantly to its growing popularity in residential construction.