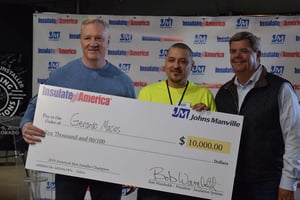 Gerardo Macias, an insulation installer with Northern Insulation in Wauconda, IL, is the winner of the 2019 "America's Best Installer" competition, held Nov. 7-9 in Denver, CO, and won the event's top prize of $10,000. The annual competition, hosted by Insulate America and Johns Manville, saw Macias compete against contenders for the title in the competition, now in its sixteenth year. Insulation Institute staff witnessed the final competition and talked with several of the attendees, judges, and contractors about what it takes to walk away with the title and more importantly, deliver top quality insulation installation in the field, where proper installation is essential to achieving peak home energy efficiency and comfort.
Fierce Competition, Tight Timeline
After paring down from the original 35 competitors to just four contestants in the finals, the competitors -- Alex Frank, Joseph Stansbury, Brian Kisner, and Gerardo Macias -- were tasked with insulating a demo structure and crawl space with batt insulation in a 90-minute time frame. In a competition that's based on a 60/40 ratio of quality to speed, it's essential to find the right balance between the two in the match — just as it is in the field.
"What's required at this stage is doing it fast and well," said Johns Manville's Casey Paulson. "In the earlier stages of the competition, we had many installers who did excellent work, but it took quite a bit longer to get it done. We want America's Best Installer to reflect real-world installations, so properly installed in the quickest time is going to be judged higher than a spectacular install that is slow and inefficient."
Often under tight schedules, contractors must be swift without compromising quality, and that can be tough. While each of the competitors did excellent work, it was clear early on that Macias had a method that gave him a leg up on the competition.
Working Smarter, Not Harder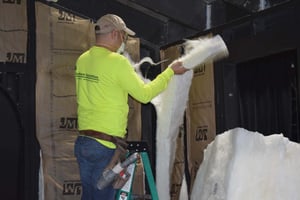 Macias' strategy for a competitive advantage in speed involved making a single trip up the ladder to start hanging the batt at the top of a wall cavity and methodically working his way down, carefully placing the insulation within the wall cavity. Other competitors made multiple trips, which may have cost critical time. Although Macias was quick and efficient in his work, he was thorough, cutting and splitting batts around wires and electrical boxes and tucking and taping as needed. That combination of speed and excellence is possible in the field, but getting it requires training and experience. And we spoke to just the guy to train contractors on doing a fast, first-rate job.
Three-Time Champ Jose Hernandez Weighs In
When you've won the Best Insulation Installer competition multiple times, people tend to listen to your advice. Cameron Group's Jose Hernandez, a three-time winner, declined to participate in the competition this year, but he was onsite at the event. Having the reputation as a top-notch installer enables him to spend much of his time while working for Cameron Group training workers on how to properly install batts to Grade I specification.
"What I see all the time is that everyone has their own way of installing the batts, but they do listen when you try to give them tips on a better way," Hernandez said. "I tell them that yes, speed is important, but it's more important to install properly, so if that means slow down, just a bit, that's ok."
Getting the details right and installing batt insulation without gaps, voids, or compression isn't necessarily difficult work, it just requires attention to the details and a commitment to getting it right. As an increasing number of builders are opting for high-performance home certification like Energy Star, HERS, or Net Zero, achieving Grade I installation is a requirement for a well-sealed and insulated thermal envelope that delivers long-lasting comfort and low heating and cooling costs.
About the Competition
Each fall, America's Best Installer brings some of the nation's top fiberglass batt insulation installers to compete in this event, which is sponsored by Insulate America and Johns Manville.
The competition also recognized second, third, and fourth places. This year's finalists include:
Alex Franco of Homeowner's Insulation in Colorado Springs, CO, took second place with a $5,000 prize.
Brian Kisner of McPherson Products in St. Cloud, Minn. placed third with a $3,500 prize.
Joseph Stansbury of Home Improvement Professionals in Byron, Minn. was recognized in fourth place with a $2,500 prize.
Additionally, eight competitors were also awarded cash prizes for their performances during the preliminary competition rounds:
Juan Jaquez of Raytown, Mo.-based Star Companies: $1,000
Brian McBride of Lancaster, Pa.-based Keener Insulating: $1,000
Joshua Hans of Auburn, Calif.-based Sierra Insulation: $1,000
Gavin Turner of Topeka, Kan.-based Black Gold: $1,000
Elliott Laughlin of Blaine, Minn.-based Homeco: $500
Larry "Pete" Middleton of Sterling Heights, Mich.-based Turner Insulation: $500
Michael Bowdish of Pleasant View, Utah-based J&K Insulation: $500
Jesus Garza of Pflugerville, Texas-based Hill Country Insulation: $500
Photo Top Right: From left, Johns Manville President, Insulation Systems Bob Wamboldt, Gerardo Macias and David Beam, President and CEO Insulate America.
Photo Bottom Left: Gerardo Macias at work during the competition.