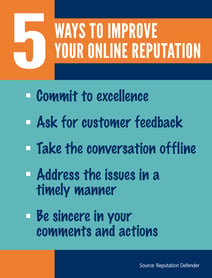 If you're a home builder, you may already know that nine out of 10 home buyers today rely on the Internet as one of their primary research sources and 52 percent turn to the web as their first step in the home search, according "The Digital House Hunt" published by National Association of Realtors® Moreover, in the digital age, consumers use online review sites to rate their customer experience with a business, which is great, if that experience was favorable, but can be devastating to your corporate image if it wasn't. A bad online reputation means fewer leads, less work and less revenue. More often than not, builders, contractors and other service providers have no control over the reviews that are posted online and are read by prospective home-buyers or renovators. As such, improving your online reputation has important implications for your company.

Rich Matta is Chief Executive Officer of Reputation Defender, the largest online reputation management company in the United States. His organization helps companies and individuals better manage the information appearing online about them, which is critical in the age of social media – where details of a negative experience can spread like wildfire through the multiplier effect, wreaking havoc on a brand's reputation.

The Best Defense is a Good Offense

Matta calls "reputation defense" a bit of a misnomer for what his company does. "It's more about playing offense: working to make sure your online feedback reflects your in-real-life reputation by getting feedback from the broadest possible swath of customers, paying attention to what these customers are saying about you and making changes that resonate with them." While the prevailing wisdom might suggest that consumers are eager to share their experiences, that may not necessarily be true.

"One of the best things that a homebuilder or any business can do to encourage customers to talk about their positive experiences is to pick the right time and make it very, very easy for them to share that information," he said. "If you know the new homeowners are thrilled with your work, bring a tablet to your last meeting and ask them to share their feedback on a review site that matters to you as part of the closing process." Matta also recommends that companies send e-mails with direct links to review sites for their industry or business – remembering to keep the tone polite, pleasant and explaining that the feedback is important and of value.

Handling Bad Reviews

While less than glowing reviews can happen to any company regardless of the industry, there are ways to limit their impact. "One of the best ways to improve your online reputation is to try to get feedback from everyone you work with – a high volume of reviews means that one or two bad ones won't have much of an impact," Matta said.

Matta suggests that companies first and foremost convey to customers that they care about them, particularly if the customer had a negative experience. "Be courteous. Indicate you're concerned that they're unsatisfied and offer to call them at a convenient time to discuss the issue," he advised. He counsels his clients to take the conversation offline, as a back-and-forth exchange of the details of the experience almost never looks good for the brand.

Second, Matta advises businesses to remember that what they write is visible to others, who may be deciding on whether or not to do business with their company. "Make sure that your response speaks to them as well through the sincerity of your tone."

Quality Drives Reputation

If taking proactive steps fail and a company is still not satisfied with the reviews that it's received online, that's where Reputation Defender can help. Through measures such as controlling search results and hiding negative reviews, the company helps businesses highlight the most favorable information while limiting the potential impact of bad reviews. It's important to keep in mind though that containing the damage that can be done to your company's reputation from an onslaught of negative customer reviews is a triage approach designed to limit the damage that can be caused. Creating truly satisfied customers who are eager to share their experiences is still the most important factor driving your online reputation – it's the holy grail of customer service in the digital age. A quote from famed basketball coach John Wooden likely offers the best advice for builders and other companies: "Be more concerned with your character than your reputation, because your character is who you really are, while your reputation is what others think you are." A concerted focus on quality (a character trait) will have an enormously positive impact on reputation.