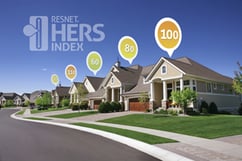 Despite the pandemic, demand for HERS-rated homes increased 24 percent in 2020 versus 2019, according to Residential Energy Services (RESNET). In 2020, 299,755 homes received a HERS Index Score, breaking the record for the number of rated homes in a year. The previous record from 2019 was 241,664 rated homes.
States Standout
Six states saw an enormous number of homes receive ratings: Texas (65,081), Florida (23,750), Arizona (20,966), North Carolina (20,622), Colorado (16,695), and South Carolina (11,800).
The states with the lowest average HERS-score per home include Vermont (33), California (42), Hawaii (42), Maine (45), and Minnesota (50). For more state-level details, see this list.
Underscoring the Demand for Energy-Efficient Homes
These new figures underscore the significance that builders and consumers place on home energy efficiency. It's calculated that HERS-rated homes will net more than $223 million in annual energy savings compared with a reference home. The resulting carbon emissions reductions are the equivalent of taking 284,000 passenger vehicles off the road in one year.
"Homebuilders increasingly see energy efficiency as a major selling point for buying a new home," said RESNET Executive Director Steve Baden. "I expect that this trend will continue. It is particularly encouraging that the average HERS Index Score of homes HERS rated was 58. This is 42% more efficient than homes built as recently as 2006 and 72% more efficient than a typical home built in the 1970s. I congratulate the builders, HERS Raters, and RESNET strategic allies that are leading the trend to mainstream high-performance homes in the marketplace."
Baden says that RESNET will continue to pursue an expansion of HERS services for homes. RESNET will launch new initiatives this year that will include increasing the demand for HERS Raters services through new opportunities in energy code compliance, water efficiency rating, and rating the installation of HVAC systems.