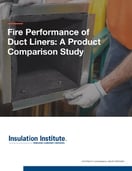 Newly released fire and smoke-developed testing for fiberglass and elastomeric duct liner products raises serious concerns about the performance of elastomeric duct liner in those aspects. "Fire Performance of Duct Liners: A Product Comparison Study" details testing conducted by Intertek Labs on elastomeric and fiberglass duct liner products manufactured by multiple companies using the ASTM E84 Standard Test Method for Surface Burning Characteristics of Building Materials.
There are several code references to ASTM E84 testing requirements in the International Mechanical Code (IMC) that set limits on fire performance in specific applications for duct liner products used inside ductwork and in a plenum space. These stringent limits are set to ensure occupant safety from dangerous fire spread and smoke during a fire.
Intertek testing of products manufactured by multiple companies showed consistent failure of elastomeric products to meet the claims for Flame Spread Index (FSI) and Smoke Developed Index (SDI) performance. NAIMA shared results with multiple elastomeric manufacturers to provide substantiation of their claimed performance (i.e., independent ASTM E84 test reports). However, no manufacturer provided a report.
Actions Designers and Specifiers Can Take Today:
Request third-party ASTM E84 testing report for the specific products.
Revisit your standards specifications if they include elastomeric duct liner products.
Intertek's tests show that every fiberglass duct liner product met FSI and SDI limits. To access the full report, click here.