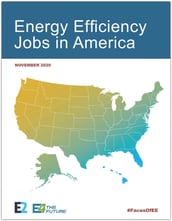 A new report from E4The Future says energy efficiency (EE) – the largest U.S. energy sector — can repower America's economy as we work to overcome the pandemic's economic effects. The annual report highlights the significant job losses due to COVID-19. Overall, employment is down nearly 14 percent in 2020 versus 2019, a loss of 321,900 jobs.
E4The Future's analysis also presents a compelling case for federal stimulus investment in energy efficiency, noting that federal investment in the sector would leverage billions in private sector investment to create jobs for 700,000 EE workers every year for five years.
The 2020 Energy Efficiency Jobs in America report includes an interactive website that provides state-level data on the EE workforce. Information is provided on employment demographics in the sector (75 percent men versus 25 percent women), a comparison of entry-level wages by sector (EE typically pays higher than the U.S. average), and a detailed look at the percentage of household income spent on energy.
The data-rich publication also details the climate benefits of energy efficiency, noting that 24 state governors have pledged to meet emissions-reductions goals established by the Paris Climate Agreement. Sixty-eight percent of U.S. utility customers are serviced by a utility with a carbon or an emission-reduction goal.
Download the full Energy Efficiency in America report here and access the executive summary here.