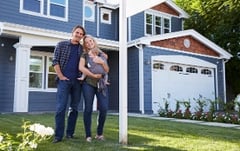 A new report from HomeLight shows that consumers' energy use and energy efficiency preferences have increased since the start of the COVID-19 pandemic. Based on a survey of 1,000 top real estate agents, the report sheds light on home buying and selling trends – with interesting insights about energy efficiency awareness and preferences.
Report Highlights Show Regional Disparities
Some results of the report include:
Forty-seven percent of real estate agents say homebuyers have increasingly prioritized energy-efficient features.
Buyers care most about whether a home's windows are EnergyStar certified over thermostats, appliances, and hot water heaters.
Sixty-five percent of buyers say sufficient insulation is a must; 47 percent cite the importance of LED or CFL lighting, and 41 percent want weather stripping.
Interestingly, there's wide regional variation in the trends, with energy efficiency trends most pronounced in the Pacific (58 percent) and Mountain regions (51 percent). Midwest buyers are the least concerned about energy efficiency features. Also, for consumers in the Pacific, solar panels rank highest among priorities. This finding is a big contrast to the Midwest and South-Central regions, where only 8 percent of agents cited solar panels were desired by buyers.
What It Means for the Market
The white-hot housing market of 2020 is expected to remain strong in 2021, and inventory could remain tight all year. Whether buyers are looking at an existing or a new home, a top-selling point for most will be the home's energy-efficient features, especially with people spending more time at home. Putting those features upfront in ads could help persuade buyers to choose the more energy-efficient home. These findings are consistent with those previously reported last spring, showing that better marketing drives sales of energy-efficient homes.
To download the full trends report, click here.