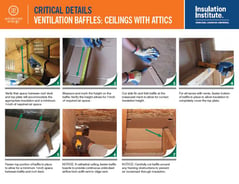 In any roof system with an attic, ventilation is crucial as it allows airflow to come through the attic and exit out the roof vents, which manage hot air and moisture. Installing baffles between the roof's rafters and trusses will stop the insulation from blocking the airflow through the attic space. Baffles should be installed in the attic wherever there is an intake vent (soffit vent) to ensure proper airflow in the attic. The devil is in the details of the installation, though. Installation guidance can help ensure that the baffles are correctly installed.
Our guide Tech Tips and Critical Details includes pictorial guidance on proper installation of ventilation baffles. It's a great resource with a simple seven-step approach to properly fitting and installing attic insulation baffles.
Another great resource on installing attic insulation baffles is this excellent video from HouseImprovements.com. Clear guidance on properly tackling small details helps manage a hugely important function in a home's attic space.