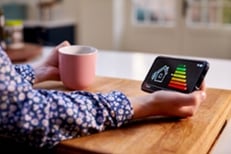 WalletHub has released its annual survey of America's most and least energy-efficient states. The personal finance site's evaluation of residential energy efficiency notes that the average U.S. family spends at least $2,000 annually on utilities. Notably, the U.S. Department of Energy estimates that adopting energy-efficient measures (such as air sealing and adding additional insulation) in a home could reduce utility bills by 25 percent.
Top 10 in Home Energy Efficiency
WalletHub estimates that the top 10 states for residential energy efficiency are:
Utah
Minnesota
Vermont
New York
Colorado
Wisconsin
Rhode Island
Massachusetts
South Dakota
California
The bottom five states in energy efficiency include South Carolina (ranked 48), Louisiana (47), Georgia (46), Tennessee (45), and Alabama (44). Due to the difficulty of compiling these states ' data, the analysis did not include Alaska and Hawaii.
Using data from the U.S. Census Bureau, the National Climatic Data Center, the Energy Information Administration, and the Department of Transportation, WalletHub compared 48 states in home and auto efficiency. It calculated the ratio of total residential annual energy consumption to annual degree days for the home energy efficiency ranking. For the auto efficiency ranking, WalletHub divided the annual vehicle miles driven by gallons of gasoline consumed to determine vehicle fuel efficiency and then measured yearly vehicle miles driven per capita to determine transportation efficiency. It then added the total score for each state and used the resulting scores to rank the states.
Expert Recommends Code Adoption
WalletHub includes recommendations from four experts on what consumers can do to reduce their home energy consumption. Expert Georg Reichard, P.E., with the Department of Building Construction at the Myers-Lawson School of Construction at Virginia Tech, recommended caulking and weatherstripping as something most homeowners can do to air-seal their homes. He also urged the increased adoption and implementation of building codes to increase a home's energy efficiency, noting that if your state only requires the 2012 code, for example, you could ask the builder to construct the home to the 2018 code to increase the home's energy efficiency.
Access the complete rankings here.